After years of making weather blogs ,I decided to blog about my night time sky watching. As everything else in life night time sky watching depends on the weather. After all who wants to stand in open field with an aluminum telescope being the tallest object? ZAP!! no thanks. We all love storms but at night for sky watching clouds are your enemy.
  My interest in watching the night sky started with the space race when I was a kid. Everything space was cool. Then one Christmas in the 1960s one of these arrived under the tree. My first scope was a reflector.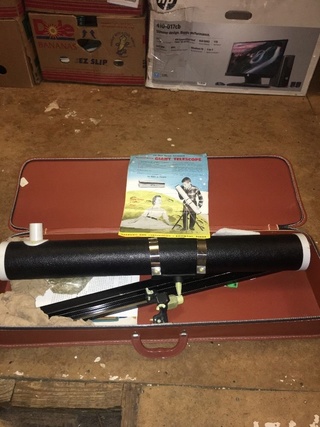 I can still remember the first time I figured out how to use it and found the moon. Since that day I have always had some type of telescope.
Now if you were thinking...I would like to watch the night sky, it can be a very hard decision finding the right telescope. The very first thing you need to ask yourself is "What do I want to see and my interest"
Because with as many different type scopes as there is on the market. They range anywhere from around thirty dollars to (the sky's the limit) Here are the two type of scopes we will focus on depending upon your interest.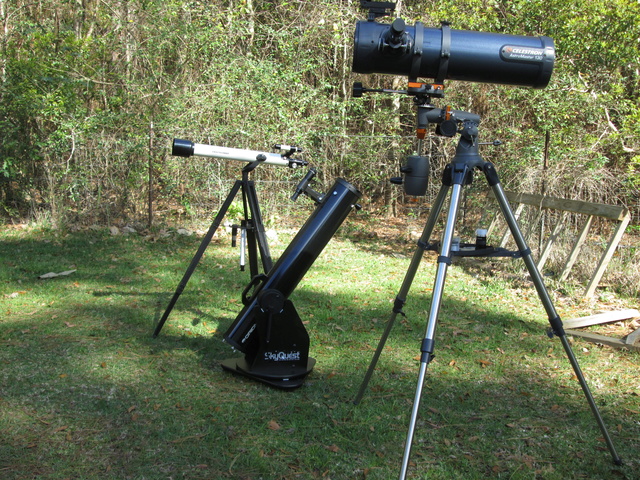 FIRST AND FOREMOST STAY AWAY FROM DEPARTMENT STORE TELESCOPES! They are toys and the only thing you will see is the money you wasted and the time spent seeing blurry spots. Most of these telescopes advertise things like 500 power!!! Yea it sounds great until you soon realize it out magnifies your telescopes capabilities and you get this this great blob of blur that you have no idea if it's a star or the neighbors porch light..I recommend one from the big three to start with MEAD,CELESTRON or ORION. Be wary of ebay until you know what you are doing.
Below I will show some telescopes and explain their purpose and price.
First the Refractor:
These are the scopes most people think of where you look through them from one end to the other.
This telescope is good for terrestrial and celestial viewing
Great for viewing the moon and some planets
depending on size some can see deep sky objects.
Refractors use lenses to magnify what you see and are the easiest to maintain.
they start at around 60mm in diameter.
Most beginner refractors are 60mm and range from around 50.00 and up.
They make good beginner telescopes.
Next is the reflector:
reflectors use a mirror and reflect the image from the bottom of tube back up to the eyepiece in the top of the tube.
With a different base than the one pictured above reflectors are a great way to get large aperture for less money. These scopes provide more bang for the buck.
They are not good for terrestrial viewing because they image upside down.
They are great for the Moon,Stars,Planets and deep sky objects depending on scope size. They do require maintenance from time to time to align the mirrors.
I wont lie ,I am BIAS to reflectors ...
Next lets talk about mounts because mounts dictate what you will use the telescope for.
The Azimuth Mount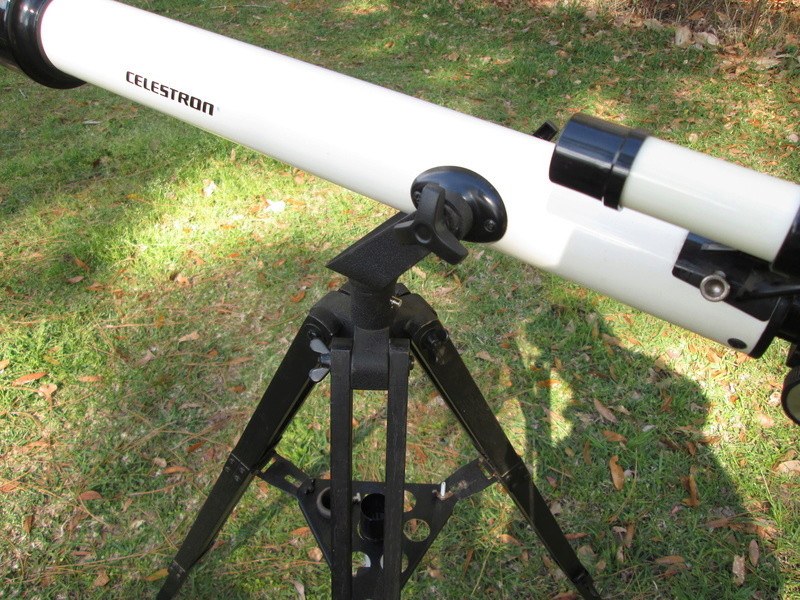 this mount is easy to operate it moves left and right and up and down. Making it excellent for beginners to learn on. Also it provides easy terrestrial viewing
This mount is for beginners.
The Dobsonian Mount:
This mount moves like an azimuth mount but allows you to handle really large aperture telescopes. This mount is my personal favorite. Dobsonian reflectors allow you to see deep sky objects. They also do good for viewing planets and the moon.
Dobsonian mounts are not good for astrophotography because the have to be manually operated and not designed to track objects.
The Equatorial Mount or German Equatorial Mount: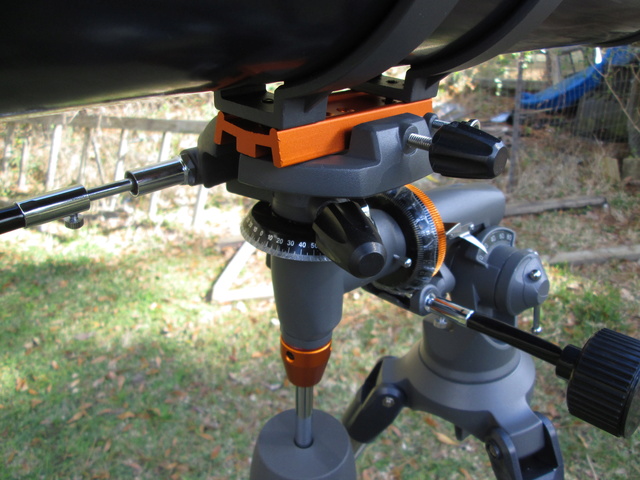 These type mounts can track an object and make up for the earths rotation
They have to be set up to your latitude then aligned with Polaris(The North Star)
Not recommended for terrestrial viewing these things are made for the sky.
I only recommend these to beginners if they have aspirations in astrophotography or serious astronomy interest.
These mounts are also capable of being motor driven for tracking objects for astrophotography.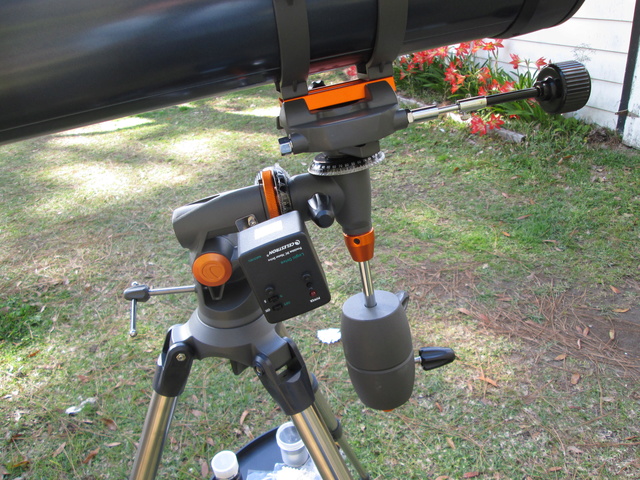 Maybe that will help someone that has an interest in sky watching.
Here are a few telescopes I would recommend:
This is a Mead 60mm Refractor Telescope. Celestron and Orion also have these size telescopes. They are a good starter for around 50 dollars and up. So you wont be out much if you lose interest.
Here is a great 100.00 scope that's table top and will allow some good views even some bright deep sky objects:
made by Orion The Sky Scanner Table top 100mm reflector . I think Mead and Celestron have similar just not sure if they have the 4 inch aperture.
and last a dobsonian they can start around 200.00 and up depending on aperture.
The 6 inch is the one pictured and it runs around 275.00. These will have great optics and are great for casual or serious star hopping! The deep sky will come alive.

Now it's getting dark..
So I am headed out under clear sky's!!
I may blog more on the night sky ,heck I may even be able to take you on a tour with my own scope as I am diving in to astrophotograhy and have a digital imager on the way...

gomexwx




Posts

: 641


Reputation

: 63


Join date

: 2012-07-16


Location

: On an Acre somewhere on the gulf Coast



"The Azimuth Mount"
Is that anything like
NOLA

sangria

Admin




Posts

: 2345


Reputation

: 55


Join date

: 2012-07-16



All kidding aside Gomey, this is a great blog!

Thanks for sharing all of your knowledge about viewing the night sky. I find it very interesting. I had one of those "toy" department store telescopes several years ago, but it was worthless!

I look forward to more!

sangria

Admin




Posts

: 2345


Reputation

: 55


Join date

: 2012-07-16



to san.
Nice blog gomey. It's not a subject I'm versed on but would like to have a telescope someday once life settles down. Watching the stars/planets is very therapeutic even to the naked eye. I can only imagine viewing through a scope.

StAugustineFL




Posts

: 2203


Reputation

: 64


Join date

: 2012-07-17



Excellent blog, Gomey. I hope you've got your astrophotograhy calendar set for 2022 (give or take a year), when our 'new' red nova shows itself.

JRnOldsmar




Posts

: 814


Reputation

: 48


Join date

: 2017-03-05


Location

: Oldsmar, FL



JRnOldsmar wrote:Excellent blog, Gomey.  I hope you've got your astrophotograhy calendar set for 2022 (give or take a year), when our 'new' red nova shows itself.
Cool..if it comes to pass,it should be visible to the naked eye.. The man who predicts the event is named Molnar?He predicted Binary stars that might collide and go boom huh...

gomexwx




Posts

: 641


Reputation

: 63


Join date

: 2012-07-16


Location

: On an Acre somewhere on the gulf Coast



this has been the year from hell...
the new scope I bought to start in astrophotography had a bad gear in the mount and would not track Jupiter so I had to return it:(
So I will buy this one to replace it: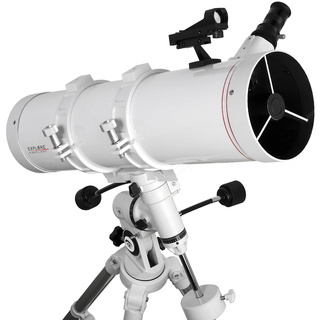 and of course it cost more BUT the mount will hold larger tubes for the future.
Sad when you are to the point where the Mounts now cost more than the scopes...lol

gomexwx




Posts

: 641


Reputation

: 63


Join date

: 2012-07-16


Location

: On an Acre somewhere on the gulf Coast



That sucks Gomey. I hope the new and more expensive one holds up to your expectations!

sangria

Admin




Posts

: 2345


Reputation

: 55


Join date

: 2012-07-16




---
Permissions in this forum:
You
cannot
reply to topics in this forum