I figured since it was April and Hurricane Season is right around the corner, I would post a blog about what major hurricanes do. You really have never seen one of these beast in their true form unless you get to punch them right square in the eye. Punching through the eye wall and poking one in the eye then going back through that eye wall is really hard to describe...The roar of the beast is all you can hear and it's so loud you can scream at the top of your lungs to the one next to you and they cant hear you.
I have seen a few majors with my life here on the North central gulf Coast. My first eye opener that sparked an interest I have never lost ,was Camille. Since then life has been a blur...but the hurricanes along this coast have been consistent every ten to 15 years we get slammed.
The first major hurricane where I went through the North eye wall and exited the eye through the Southeast Eye Wall. Only to find the house I was in crushed by pine trees was Hurricane Frederic in September of 1979. Frederic was a cape Verde storm that tracked across the Atlantic through the Caribbean into the Gulf of Mexico right into my backyard.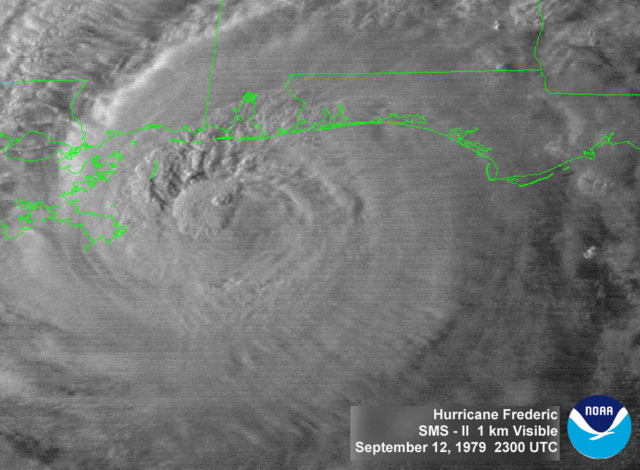 Before the eye wall as the system ramps up from tropical storm force winds to hurricane force you can see people scramble to make last minute preparations, when the first tree falls everyone is gone to the safest part of their home to "Hunker Down".
I can remember seeing pine tree's going up our street faster than any cars ever did. I knew then this was not going to be good.After that,words can't describe what you go through but maybe these pictures will.
My House with pine trees on it and through it. I promise you there is a house there.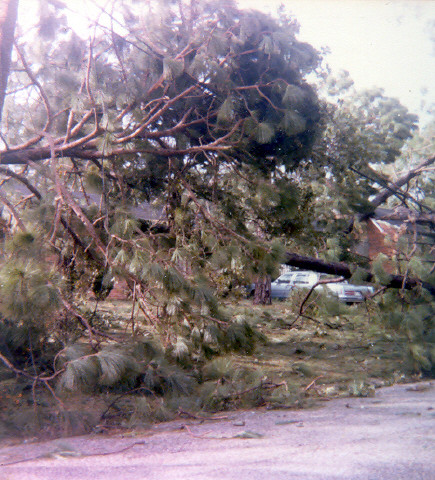 Here was the back of the house:
" />
Here are more pictures of the morning after on my street: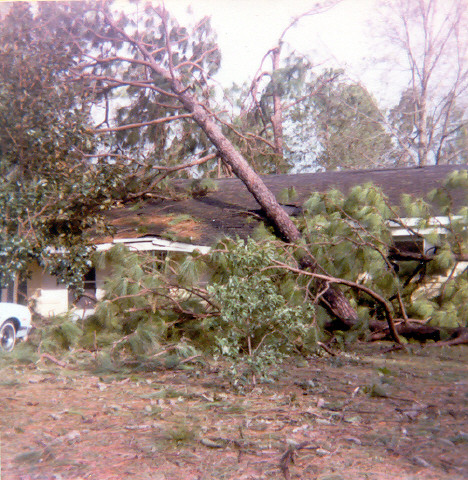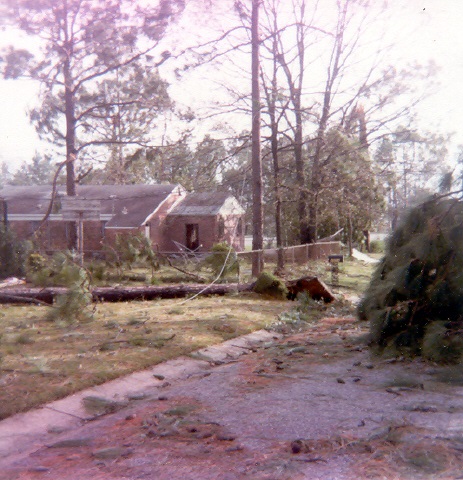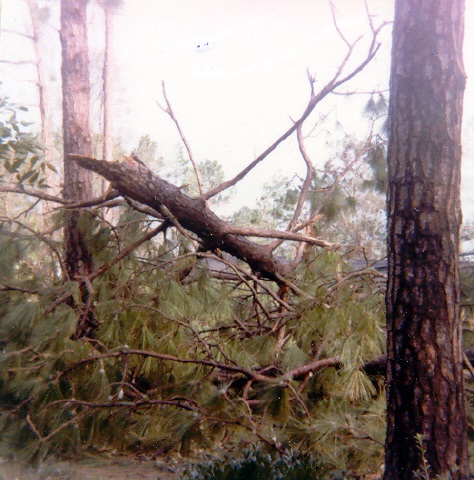 Back then there was no FEMA as we know it.
We had to reach down pick ourself's up and rebuild...and we did.
Frederic Hit as a strong Cat3 with winds of 135 mph.
Frederic was finishing an eye-wall replacement cycle just before landfall. The dauphin Island Bridge Weather Station recorded a 154 MPH gust that lasted 54 seconds it takes 60 seconds to call it a sustained wind. The bridge and weather station was was totally destroyed BEFORE that 60 second threshold was reached...But we all know what hit us..
Now let's use another storm.
Lets jump to 2005 and Hurricane Katrina.
My house had a tree down and I was without power for 2 weeks.
Now my Wife's family all live in Ocean Springs Mississippi ,right near the coast.
It took us three days to cut from my house to the Mississippi coast with truck and chain saws.What we found when we got there can't be described once again.The smell of death was everywhere. When the Pascagoula River Delta's flooded from the surge it drowned all the animals who couldn't escape.They were scattered everywhere. That smell went to the coast and it was no longer animals.Her family was fine the surge stopped 100 yards from their house.They did need a roof.
Here are the pictures of what we saw when we got to the coast:
this is what a house looked like where people lived marked All Safe in White. White marking meant you were ok.
They were marked in red if someone died: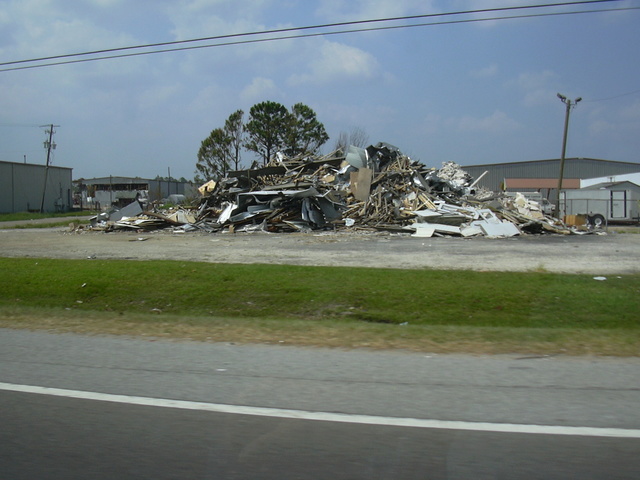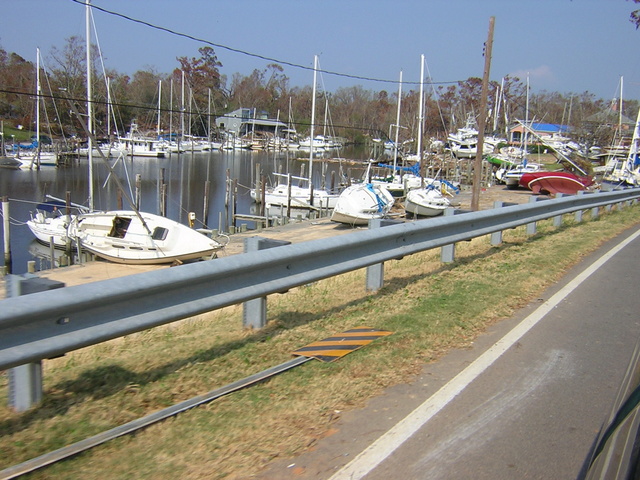 So what does a major hurricane do..It kills and destroys lives.
I have been through many major and minor Hurricanes here on the North Central Gulf but no two Hurricanes are the same,they each have  characteristics of their own. But once you punch through the eye-wall you begin to understand.

gomexwx




Posts

: 641


Reputation

: 63


Join date

: 2012-07-16


Location

: On an Acre somewhere on the gulf Coast



Nice blog gomey.

Very sobering pictures/story and something I hope I never have to experience. Many a close shave (most recently Matthew) but no direct hits.

BTW - those Frederick pics from the late 70's have great quality considering they're over 35 years old.

Here's to hoping 2017 is good to all of us!

StAugustineFL




Posts

: 2130


Reputation

: 64


Join date

: 2012-07-17



Wow Gomey, this was a great blog!

Those pictures from both Frederick and Katrina certainly tell a story, along with your narrative.  I hope you don't have to experience another Major in your lifetime.

Would you mind if I shared the blog with a closed group on FB?

sangria

Admin




Posts

: 2339


Reputation

: 55


Join date

: 2012-07-16



go ahead,

and sadly it's been well over 12 years since katrina,13 since Ivan..But the last eyewall I went through of a major was frederic...we are so due for that again after 38 years...


gomexwx




Posts

: 641


Reputation

: 63


Join date

: 2012-07-16


Location

: On an Acre somewhere on the gulf Coast



Done, and thank you!! You probably know everyone in the group.... lol

sangria

Admin




Posts

: 2339


Reputation

: 55


Join date

: 2012-07-16



Thanks for the outstanding blog, Gomey. I've been really lucky. I've been thru plenty of storms, but no majors (not major at my location, anyway). I don't care to experience them either. I do love a good storm, but there is a limit to my madness.

JRnOldsmar




Posts

: 790


Reputation

: 48


Join date

: 2017-03-05


Location

: Oldsmar, FL



Good read Gome.

The worst I've been through is Wilma. No electricity for two weeks. (have a generator though)

No running water for three days after Wilma hit. That was not fun.

BillsfaninSoFla




Posts

: 1928


Reputation

: 52


Join date

: 2017-03-05




---
Permissions in this forum:
You
cannot
reply to topics in this forum