When the moon washes out the night sky and deep space objects get lost in it's glow so does my telescope.
I will take you along for the ride from time to time.
The target that I will share my telescope views with you is the Crater Tycho.
The Tycho Crater is  at long 11.2 West Lat. 43.3 South in the South-West Quadrant.This area is know as the Tycho Crater region.
The Tycho Crater is considered a very young formation(100 millions of years)
The Tycho crater is 52 miles across and has a depth of 14,500 ft.
The crater has a flat floor with very steep walls. The central Mountain is over 1500 ft. in elevation.
The Tycho Crater was named after Tycho Brahe' ,he was a 16th century Astronomer born in Denmark.
Now that we know our target lets roll...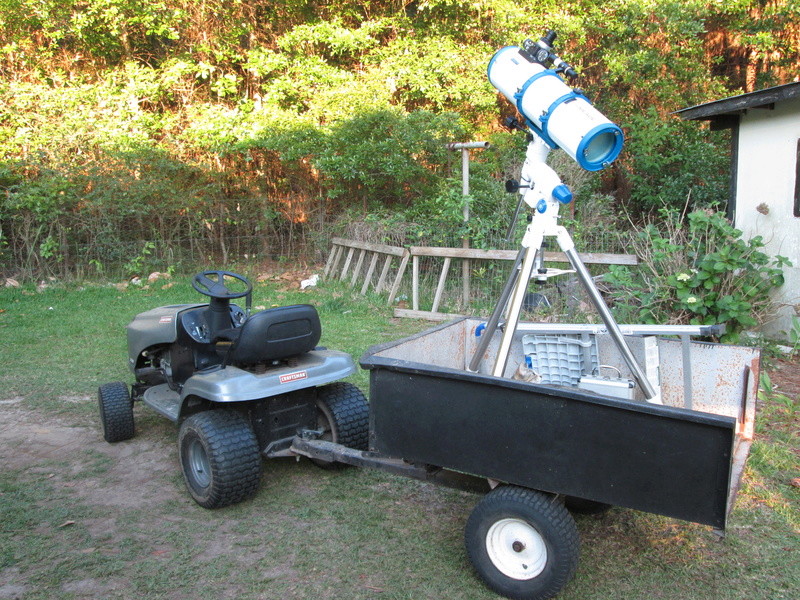 Now the Camera is installed and we are waiting on the moon
Finally dark falls to the beauty of clear sky's and we can proceed to find our target the Crater Tycho.
We will create a video at around 28.3-32 f/ps (frames per second)
then we will process the raw video into a picture of the moon and our target!
Here is the Raw video we created. You will notice all the adjustments I do through my lap top controlling the CMOS Camera inserted as an eyepiece into the focuser of my scope. I do this through the USB 3.0 cable. Once I get the the gain,brightness and focus down we can use the video to create the image...
here goes:
Now that we have the video lets send it over to Regi Stax 6.1 which we will use to process the video and create a picture of our target. In this program we can bring out things not seen in the raw video and create pictures of our target..
I present Tycho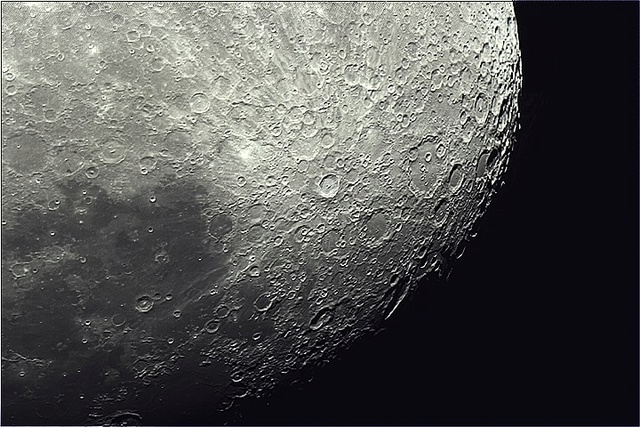 Our Target again:
I hope you enjoyed tonight's telescope trip we will do it again.
_________________
Never ever leave me alone in a blog

gomexwx




Posts

: 641


Reputation

: 63


Join date

: 2012-07-16


Location

: On an Acre somewhere on the gulf Coast



Gomey! Those are great shots bud. I may have missed it in a prior blog but I didn't realize how large your scope is.

StAugustineFL




Posts

: 2203


Reputation

: 64


Join date

: 2012-07-17



That's because that scope is not in any of the pictures. I had an issue with one of my scopes under warranty..So I sent it back. I bought a new one. It is a fast imaging scope at 150mm aperture and focal length of 750mm giving a focal ratio of f/5. Nice wide field so when I get another camera for deep sky objects I can get better pictures and longer exposures..Only problem is it weighs 0ver 60 lbs and then add another 16lbs of bowling ball I hang from the center bolt of the tripod(weight adds stability)to help image quality since the earth rotates and the scope moves to compensate.
So the old lawn tractor I removed the mower deck from is now a scope trolley... you can't just move this around the yard.
_________________
Never ever leave me alone in a blog

gomexwx




Posts

: 641


Reputation

: 63


Join date

: 2012-07-16


Location

: On an Acre somewhere on the gulf Coast



Whoa Gomey!

I love these posts, please keep them coming. That video is fantastic!

And I had to LOL at the tractor being used to haul that big ole telescope.

sangria

Admin




Posts

: 2345


Reputation

: 55


Join date

: 2012-07-16



There will be more,right now I am working with Saturn,problem is it's not high enough at my latitude . Meaning more atmosphere to film through ,which in turn relates to lower quality image..The weather and angle are the two most important factors to image quality...My meteorology background helps a lot with astrophotography.
_________________
Never ever leave me alone in a blog

gomexwx




Posts

: 641


Reputation

: 63


Join date

: 2012-07-16


Location

: On an Acre somewhere on the gulf Coast





Similar topics
---
Permissions in this forum:
You
cannot
reply to topics in this forum