It's anyone's race at the Bristol bullring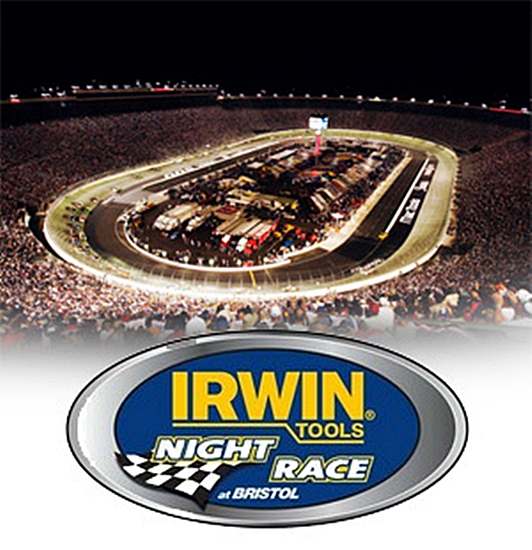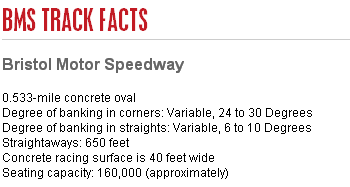 It has been 14 weeks since NASCAR last visited a short track, and grassroots fans are jonesing for a fix.

The raw action of 43 cars on a bullring less than a mile in length is a recipe for excitement, and there will be two races on that track type in the next three weeks. If a wild-card battle that could still produce eight contenders for one of two final slots in the Chase wasn't enough to keep fans glued to television, the anticipation of them racing through a minefield of spinning cars and exploding tires certainly will.

Bristol was once a rhythm track and drivers who found the right cadence could click off perfect laps for extended periods of time. Kyle and Kurt Busch, Greg Biffle, and Ryan Newman are recent examples of drivers who were able to string together long streaks of top-10s even after this track employed progressive banking in 2007. Matt Kenseth is the only remaining driver with a current streak of more than three consecutive top-10s.

Eventually the drivers learned how to use the variable degrees to stay off one another's bumpers and develop two racing grooves. As they kept their cars in one piece and experienced fewer accidents, the final laps became less predictable yet with more and more cars on the same lap as the leader and minor mistakes producing major consequences.
No matter how crazy the action gets, Matt Kenseth seems to rise above the fray. He has as much passion behind the wheel as the next driver, but he does a better job than most of sublimating his anger into focus and finds a way to let his right foot do the talking for him. Kenseth is not necessarily the first driver who comes to mind on short tracks, but his recent record at Bristol is better than anyone in the field. While no one else has more than three consecutive top-10s to their credit, Kenseth has an uninterrupted streak of six. In recent seasons, he has been better in the daytime spring race but both of his previous wins came under the lights in 2005 and 2006. Moreover, his second-place finish in March makes him an easy pick for the top spot on fantasy players' rosters.
AND JUST FOR THE BOYS!!!

GrillinInTheEye




Posts

: 153


Reputation

: 1


Join date

: 2012-07-17


Age

: 51



Thanks Grill, Me loves some Bristol

emcf30




Posts

: 975


Reputation

: 10


Join date

: 2012-07-16


Age

: 88



Very nice Grill, Me loves some Dani

Tropic Bunker




Posts

: 70


Reputation

: 1


Join date

: 2012-07-16


Age

: 80


Location

: Miami



Good Morning Everyone. We are all busy watching Issac So I'll just put this info here for everyone to take a gander at. Since Qualifying was rained out, they will be lining up using the first practice speeds.
Casey Mears will be on the pole for tonight's race. Enjoy it while you can Gome. He won't be there for long.

GrillinInTheEye




Posts

: 153


Reputation

: 1


Join date

: 2012-07-17


Age

: 51



In other NASCAR news...

Labbe suspended as part of 27 team penalties
Crew chief, two others out until Oct. 3; Menard docked points for MIS infractions

By Official Release

DAYTONA BEACH, Fla. -- NASCAR has issued penalties, suspensions and fines to the No. 27 team in the Sprint Cup Series as a result of rules infractions discovered this week during post-race inspection at the NASCAR Research and Development Center following last Sunday's race at Michigan International Speedway.

The No. 27 team was found to be in violation of Sections 12-1 (actions detrimental to stock car racing); 12-4K (race equipment that has been previously certified or previously approved by NASCAR for use in an event, pursuant to sub-section 8-12, has been altered, modified, repaired or changed in any manner. Intentionally modifying frame rails for the purpose of deceiving NASCAR's inspection gauges) of the 2012 NASCAR Rule Book.

(In other words he pulled a Chad.)

As a result, crew chief Slugger Labbe has been fined $100,000, suspended from NASCAR until Oct. 3 and placed on probation until Dec. 31. Car chief Craig Smokstad has been suspended from NASCAR until Oct. 3 and placed on probation until Dec. 31, while crew member Grant Hutchens also has been suspended from NASCAR until Oct. 3 and placed on probation until Dec. 31. Driver Paul Menard and owner Richard Childress have been penalized with the loss of 25 championship drivers' and owners' points, respectively.

GrillinInTheEye




Posts

: 153


Reputation

: 1


Join date

: 2012-07-17


Age

: 51



Keselowski paying tribute to Wallace with 2000 paint scheme at Bristol
By Brad Keselowski, Special to NASCAR.COM
The No. 2 Miller Lite Dodge is going back to the year 2000 with a throwback paint scheme to honor Rusty Wallace. The NASCAR Hall of Fame chose Bristol as the track where they would honor his induction into the Hall and we decided it would be the perfect time to do something like this.
First, Rusty was a master of Bristol. He won there a total of nine times and was always a threat at the "World's Fastest Half-Mile." In the 2000 season we will harken back to this weekend, he swept both races, along with winning his 50th Cup Series race. So using this paint scheme was an easy choice for everyone at Penske Racing and MillerCoors.
To tie that in to the current state of the "Blue Deuce," we are also going for the season sweep this weekend. In fact, we're going for three wins in a row at Bristol. I've always respected the hell out of Bristol Motor Speedway. It's a man's race track and I always wanted to prove to myself I could win there. To get the first win out of the way last year was a great feeling, one of the best I've had in my racing career. To be on the doorstep of three in a row -- something that very few drivers have accomplished -- is something I couldn't even have imagined.
Now, it's a different Bristol than we've seen over the last few years. The progressive banking that made it possible to race, at times, three-wide has been ground away. I was able to race my own No. 29 Ram from Brad Keselowski Racing in Wednesday night's Truck race, so I have a better understanding of what is possible and what is not since they did that. Essentially the fast way around is the middle of the track. It's really easy to get out of shape on the bottom groove so we should see plenty of action Friday and Saturday night.
As a team, Penske Racing has enjoyed a lot of success at Bristol over the years. Many people don't know that Dave Marcis made the first start in the Penske Racing No. 2 at Bristol in 1973. Rusty made his first start in April of 1991 and all he did was win the pole and the race. Talk about setting a high bar off the bat! Six wins later and he is in the history books as one of the best to ever race on the high banks.
Kurt Busch is another driver with a stellar record at Bristol. He picked up another win for Penske Racing in 2006. With those guys preceding me, I had to make sure I did my part to continue the Miller Lite Dodge legacy at Bristol.
I like to think that Paul [Wolfe, crew chief] and I are not only continuing the tradition of the "Blue Deuce," but that we are also leaving our own mark. There is no doubt that when you think of the No. 2 Dodge, you think of the names like Rusty Wallace and Robin Pemberton. Paul and I want to add our names to that list.
So, it's going to be exciting on Saturday night. With only three races left before the Chase, and several drivers needing a win, we may just see an old school Bristol race.

GrillinInTheEye




Posts

: 153


Reputation

: 1


Join date

: 2012-07-17


Age

: 51



Thanks for the info Grill. Nice read. BTW, since you said something nice about BB, isn't time to put in the BB sucks swirly thing?

scouter534




Posts

: 128


Reputation

: 1


Join date

: 2012-07-16


Age

: 57


Location

: Pompano Beach, FL



That will be later. Let San have her moment of glory. I will say this about BB's car. I was an ugly paint scheme then and it still is. They really should have gone with the MGD black and gold car looked a hell of a lot better under the lights.

GrillinInTheEye




Posts

: 153


Reputation

: 1


Join date

: 2012-07-17


Age

: 51



Miami-area NASCAR fans -- Saturday's race now on ESPN: Due to hurricane coverage, ABC's WPLG-TV will not be showing the Sprint Cup Series race from Bristol this evening. It will air on ESPN at 7:00 p.m. EST. Stay dry and enjoy the race!

GrillinInTheEye




Posts

: 153


Reputation

: 1


Join date

: 2012-07-17


Age

: 51



What a great race. I actually enjoyed it for the first time since they started messin with the track..

emcf30




Posts

: 975


Reputation

: 10


Join date

: 2012-07-16


Age

: 88





Similar topics
---
Permissions in this forum:
You
cannot
reply to topics in this forum